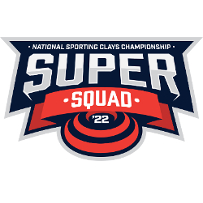 The auction has ended for the opportunity to purchase a spot on the Super Squad Rotation at the upcoming National Sporting Clays Championship, but we still have some great positions available to shoot with accomplished champions and All-Americans. The Super Squads, comprising World, National and Regional Champions, All-Americans, and other top shooters in NSCA, will shoot together in the same rotation, realigning on the final Sunday with the event leaders finishing the course on a planned championship station. One spot on each squad of champions was reserved for auction/purchase by the public as a fundraiser for the USA Sporting Clays Team and to increase the winners' cash awards.
In the Super Squad auction, bidding opened at $500 for men's squads and $300 for ladies'. You can purchase any remaining position on a squad at that price or for a reasonable offer.
Contact Nicki Bowers, nbowers@nssa-nsca.com or 210-688-3371 ext. 255 to purchase a spot.
Positions are available on these squads:
Men's Squad #3A – William Walton, Ryan Harper, Theo Ribbs
Men's Squad #5B – David Radulovich, Rennie Wilson III, Alex Clark
Men's Squad #7B – Brad Kidd, Dominic Grossi, Michael Luongo
Ladies Squad #1B – Annabelle Ayres, Jenni Clark, Marian Zerby
Ladies Squad #2B – Katie Fox, Grace Choe, Mary Krentz
Ladies Squad #4B – Shelby Moon, Gianna Santo, Ashleigh Alexander
Source: NSCA News